Fashion Week, Los Angeles and New York Booking

We are now accepting bookings for Fashion Week.
This season we are only shooting at venues for designers that have pre-booked us to shoot for them.
Currently accepting bookings for the upcoming Fashion Week venues in Los Angeles and New York.
We are available to shoot runway and/or your lookbook. If you would like us to shoot your line aside from the runway, please contact us for more information.


Designers: if you normally get your photos from us after a show, please book us in advance, as we are not shooting any complete venues anymore.

This season we are shooting multiple cameras in different formats. We are shooting the end of the runway with Digital Medium Format to give extreme detail and tonal range of your garments. The walk will be shot with a 36mp Full Frame camera.

Feel free to contact us via our Contact Page or
By phone at (310) 596-5890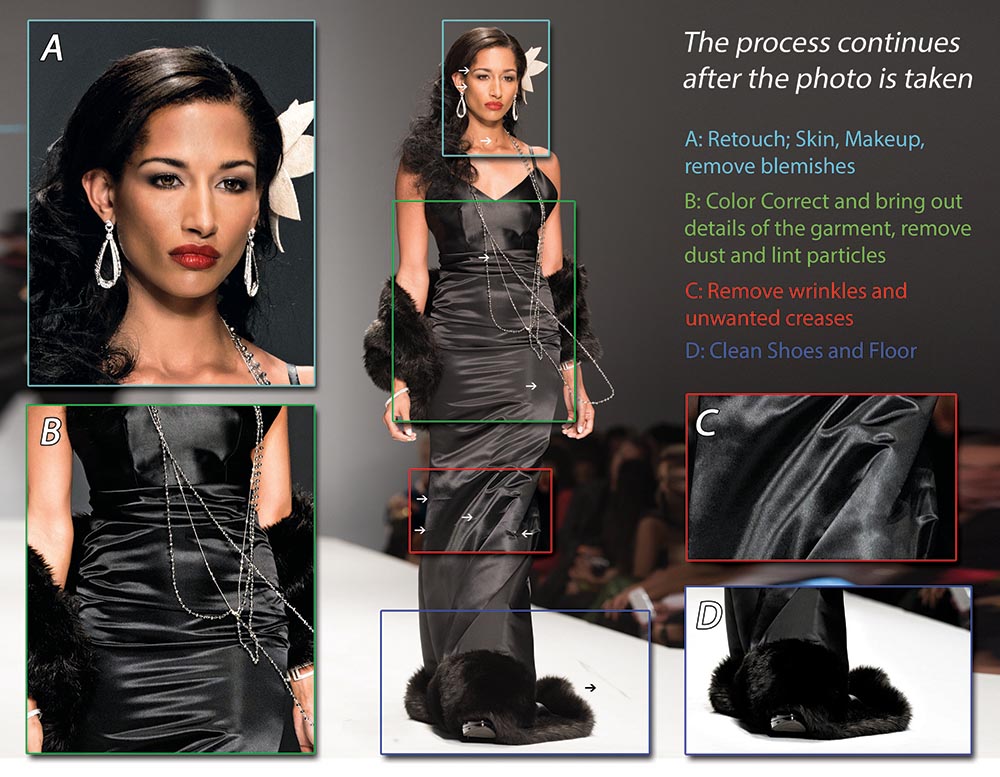 Designer to Provided
Schedule for walk
Access for Key and Assistant Photographer
Access to watch rehersals
Secures shooting position from the venue for Key and Assistant Photographer
Delivery
Proofs available online within 24 hours of walk.
Final delivery of one (1) each; Front, Side, Back per Look, retouched (see below) within 1 week after client selection.
Delivery format as 36-50mp jpg, 16bit PSB format also available, contact for more info.
Rates
$1,800 (limit 20 Looks, $65 per look there after)
Deposit amount: 50%
Additional delivered images (beyond front, back, side): $35ea
When shooting Runway/Fashion shots,
the photo process just begins...
Photos should have the following:
Color corrected to account for Lighting
Dust and Lint particles removed
Blemish removal from models skin
Adjust/Fix makeup
Maintain clean skin texture
Shoes cleaned
Floors cleaned
Material, Stiching, Cuts brought out
When your line is shot, we try our best to get the following shots:
Walking - Shows Garment flow
Front view - Showcase Garment
Posed view - Secondary Showcase
Side view - Side Details
Back view - Rear Details
When we deliver your photos, they must be of the highest quality and resolution, as well as ready for publishing, from the internet to a full size bilboard. Publishing is not the time for retouching.